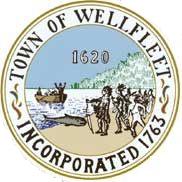 Fish Guy Market Launches "Wellfleet" Occasional Restaurant
CHICAGO - Continuing his mission to provide the widest range of fresh seafood to the Chicago community, Bill Dugan today announced the launch of "Wellfleet" occasional restaurant. The restaurant will enable customers to enjoy an intimate and unique way to dine, starting Thursday, Oct. 19.
Bill Dugan, owner and operator of the Fish Guy Market and Superior Ocean Produce said, "The occasional restaurant is a concept that is relatively unknown is the U.S. as far as I am aware. There's been a trend in fine dining in Berlin and Paris that I have been following for some time - small gatherings that clandestinely take place in apartments and lofts where (because of licensing and zoning restrictions) it is often illegal. These gatherings are sometimes referred to as a'cuisine speakeasy.' I like to think of it as an 'occasional restaurant.' This concept is my inspiration for Wellfleet."
"I have had a longtime dream to open a seafood-driven restaurant, but with running the retail and wholesale businesses, I knew I would never find the time. One night a week, held in the Fish Guy's storefront, was the only way I could do it. I want to be on hand to assure the content and quality Fish Guy customers have come to expect," Dugan added.
"My idea is to present the finest products and prepare them in a simple manner framed in an intimate and casual setting," said Dugan. "Fish Guy chefs Leo Bariso and David Radom will help guide my vision. Also joining us on a frequent basis will be food luminaries and fellow chefs from around the planet who love to cook."
Wellfleet's will take place every Thursday at 7:30 p.m. excluding holidays. Each week, a fixed-price menu and B.Y.O.B. service will be offered. Wellfleet will be able to accommodate 12 guests and reservations are necessary. Please call ahead with requested table arrangements.


The cost is $100 per person and is non-refundable. Coffee, dessert, tax and gratuity are included. View our payment policy HERE.
Menus
All meals include coffee and dessert by ACF world pastry champion Peter Yuen.
Celebrating our place in the top 100 chicago dishes (Timeout Chicago), Caviar a la Joel Robuchon can be added as an additional course for $30.00.
 
October/November

Crustacea 3-way:
Alabama Shrimp with heirloom tomato Bloody Mary,
Tempura Languostine served with Romesco sauce,
Freshwater Prawn with a lemongrass emulsion.
Sashimi of Domestic Bluefin Tuna with fresh horseradish gremolata
Terrine of Duck liver on gingerbread with fig jam,
Giant "Mano de Leon" scallop served with Pico de Gallo,
Kurubota pork cheek with melon glaze.
November/December

Freshly harvested Illinois Sturgeon Caviar a la Joel Robichon,
Oysters in the style of Asia,
House-smoked Magret with Arugula salad,
Poached Maine lobster, Peruvian crocquetta and tangerine butter,
Assorted cheeses with rustic toast and cured fruits.
 
December 21,28 / January 4,11

-Balik with Meyer lemon cream
-Bisque of native Maine shrimp
-Carpaccio of Kobe rib eye with Parmesan cheese and white truffle emulsion
-Turbot with celeriac puree and fresh parsley broth.

January 18,25 / February 1,8

-Pan seared Diver Scallop / Maple roasted Butternut squash
-Ceviche of Native Sweet Shrimp and Yellowtail Jack
-Loligo Squid stuffed w/ vegetable concasse / Rosemary emulsion
-Parmesan and roast garlic flan with organic greens.
February 15,22 / March 1,8
-Roasted Mussels, Nantucket Bay Scallop w/ Saffron herb broth.
-Line caught Cod poached in Miso, Spicy radish and English pea emulsion.
-Tomato and Cauliflower soups baked with puff pastry lid.
-Seared rare Big Eye Tuna with wasabi mashed potato.
March 15 ,22 and 29 / April 5
-Running Egg w King Salmon
-Bisque of Lobsterette
-Sirloin of Kobe Beef w Brioche and Jus Natural
-Cortez Grouper w Soft Herb Polenta
April 12, 19, and 26 / May 3
-Native Shrimp w Asparagus Salad
-Sashimi of Bonito, Balik and Big Eye
-Snapper in the style of the Carribean Isles
-Native Lobster w Orzo and Lobster Essence
About Fish Guy Market and Superior Ocean Produce
With more than 30 years experience as owner and operator,Bill Dugan has offered retail and wholesale customers a full spectrum of fresh local and imported seafood. Located at 4423 N. Elston for more than 9 years, the Fish Guy Market was recently named by Chicago Magazine as the "Best Fish Market" in Chicago.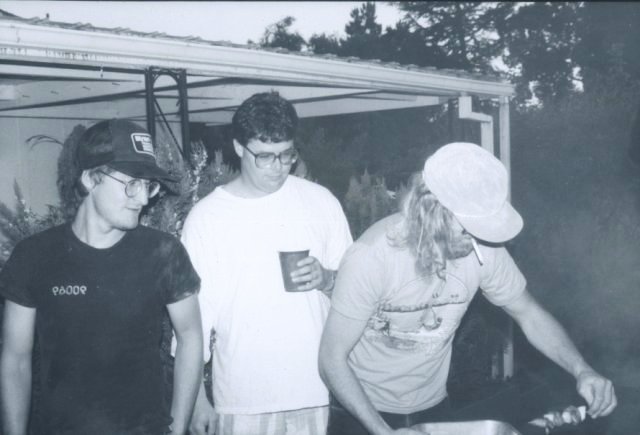 Bill (Center) with friend and mentor Peter Bird (cig in mouth) to whom Wellfleet is dedicated.

Contact: Bill Dugan, Fish Guy Market & Superior Ocean Produce,
4423 N. Elston, Chicago, IL 60630, 773-283-8400,
bill@fishguy.com